No results. Try making your query more generic!
User account and preferences
In the user account pages, every user of the redirection.io manager can edit various settings, and perform administrative operations on their account. In order to access the account management pages, click on your username, on the top right part of the screen, then click "Account settings".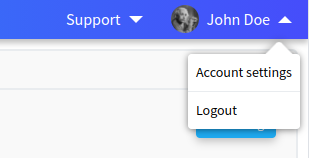 This section contains several features:
Account management: allows to perform administrative tasks on your account (changing your name or your email address, deleting your account, etc.).
Security: allows to change your password, and manage your Two-factor authentication devices.
Notifications: manage your subscription to our newsletter, in order to be updated on redirection.io new features. Also, choose to subscribe to the weekly digest email for your projects.
Organizations: get the list of the organizations you belong to and easily manage these.
Third-party providers authentication
You can create an account or login to redirection.io using your email and a password, or using a Google account. If you have already logged in using a third-party authentication provider, it gets listed under the "Security" tab of your "Account settings":

Two-Factor authentication support
What is Two-Factor authentication (2FA)
Two-Factor authentication is a way to add more security to your account. When 2FA is enabled, you have to log in using your email and your password, as usually, plus you must provide a second authentication information that you only know. This "second authentication information" is usually a unique code sent by SMS, a code generated by a Two-factor authentication application, a code provided by email, or a physical authentication device.
Instead of relying only on a login and a password, that could be compromised, using 2FA introduces another level of authentication that makes your account and information more secure. We strongly advise all of our users to enable 2FA on their accounts.
Enabling Two-Factor authentication for your account
We support 2FA using an authentication TOTP ("Time-based One-Time Password") application. There are several such apps on the market, usually available for free, and our 2FA implementation is compatible with all of them. We recommend you to use one of the following apps:
In order to enable 2FA for your account:
head to your account's "Security" page. This part of the account settings allow to manage security-related options, such as changing your password or enabling 2-FA devices.
scroll down to the "Two-factor authentication" section, then hit the "Enable Two-factor authentication" button
scan the provided QR code with your 2FA mobile application
give a name to this device, and fill the code provided by your app, then hit the "Set-up Two-factor authentication" button
save the provided backup codes in a secure location. If you loose access to your 2FA application, these backup codes will help recover your account. Please note that you won't be able to display them again afterwards.
The next time you will login to redirection.io, you will be required to fill in the code provided by your 2FA application.
If you need more than one authentication device (a second phone, for example), please click the "Add another device" button and repeat steps 4-6.
This page has been updated on September 29th, 2023.