No results. Try making your query more generic!
Starter's guide
The redirection.io mission is to help our customers discover their websites traffic bottlenecks and help fix them as easily as possible. In order to use our platform, some tools have to be installed on your website. The install process is not complicated, but it is required before being able to use our platform.
redirection.io on your own infrastructure
In the traditional setup, redirection.io users run the agent on their own infrastructure: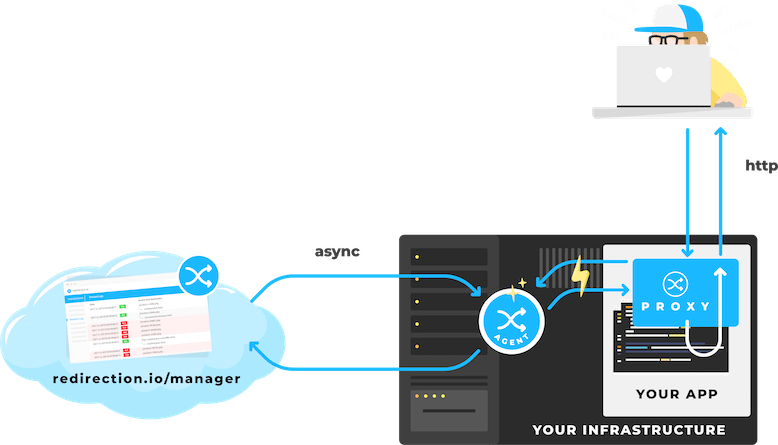 In this setup, starting your journey with redirection.io is quite fast:
create an organization and a project. At this step, you may want to invite your co-workers;
install the redirection.io agent on your hosting platform;
have your website use redirection.io's agent - we provide several integrations and proxies;
head to your project's dashboard, start analyzing traffic logs and set up some redirection rules;
see your agent being updated and the rules applied. Enjoy ✌
redirection.io for Cloudflare users
If you already use Cloudflare, you might be happy to directly run redirection.io on Cloudflare's infrastructure, by using Cloudflare Workers. Please read our dedicated Cloudflare Workers Integration documentation page.
This page has been updated on September 29th, 2023.