We're thrilled to announce a game-changing feature - "Managed Instances" - designed to simplify your experience with redirection.io.
Historically, redirection.io was a self-hosted hybrid product, which means that users had to install the agent on their own servers. Now, with Managed Instances, we offer a hosted version, taking the hassle out of infrastructure management. Basically, users must configure their domain name to target it to our infrastructure, and it works in minutes.
target your domain DNS to our servers
works in minutes
automatic SSL is provided
Shortly said, a redirection.io managed instance is a redirection.io agent server hosted on the infrastructure provided by redirection.io. It is capable of handling redirects for your blank domains, and can also act as a reverse proxy for your websites, with all the redirection.io superpowers inside.
Along with our historical "hybrid" deployment, and the "On-Premise" deployment mode, we cover a very flexible and large range of situations, making redirection.io the most versatile SEO reverse proxy out there:
Fully managed SaaS
everything on our servers
works in minutes
Hybrid SaaS & hosted
the redirectionio-agent is installed on your infrastructure
On premise
the whole platform is deployed on your own servers
Benefits of Managed Instances
redirection.io managed instances are a great option for users who don't want to manage their own infrastructure, or who don't have the technical skills to do so. But there are other key benefits to using managed instances:
Automatic SSL: Managed Instances automatically generate SSL certificates for your domain names (using Let's Encrypt). It takes seconds, saving you from certificate management complexities.
Global Presence: Our infrastructure spans multiple Points of Presence worldwide, ensuring lightning-fast redirection rule execution for your end users.
Hassle-Free: No need to manage your own infrastructure. Simply configure your domain name to point to our infrastructure, and we'll handle the rest.
High Availability: Managed Instances are replicated across multiple data centers, offering a highly available service without any management on your part.
We are very happy with the results so far, and we are looking forward to have more users using it. The technology behind it is very solid, and we are confident that it will scale well - it has been designed for this. Each managed instance is isolated from the others, both in terms of data management or CPU consumption, and we have a lot of monitoring in place to ensure that everything is working as expected.
Cost and Availability
Managed Instances come at no additional cost compared to our standard plans. They're available to all users, regardless of their subscription plan. You can create Managed Instances directly in the manager, under the "instances" section.
There are however some restrictions on the number of managed instances that can be created, depending on the plan, and on the amount of bandwidth that a project can use each month. These limits and quotas are described in our documentation.
Getting Started
Managed instances have been in production for several months now, and we have already many customers using it successfully. The use cases are very diverse, from small websites to large e-commerce websites:
Redirect blank or naked domain names.
Create a company URL shortening service.
Get all the powerful features of redirection.io without installing any components on your website. It's compatible with various platforms, including major eCommerce SaaS solutions, GitHub Pages, Vercel, Netlify, Shopify, and more.
Setting up Managed Instances is a breeze. We provide extensive documentation to guide you, and our dedicated support team is ready to assist with any questions.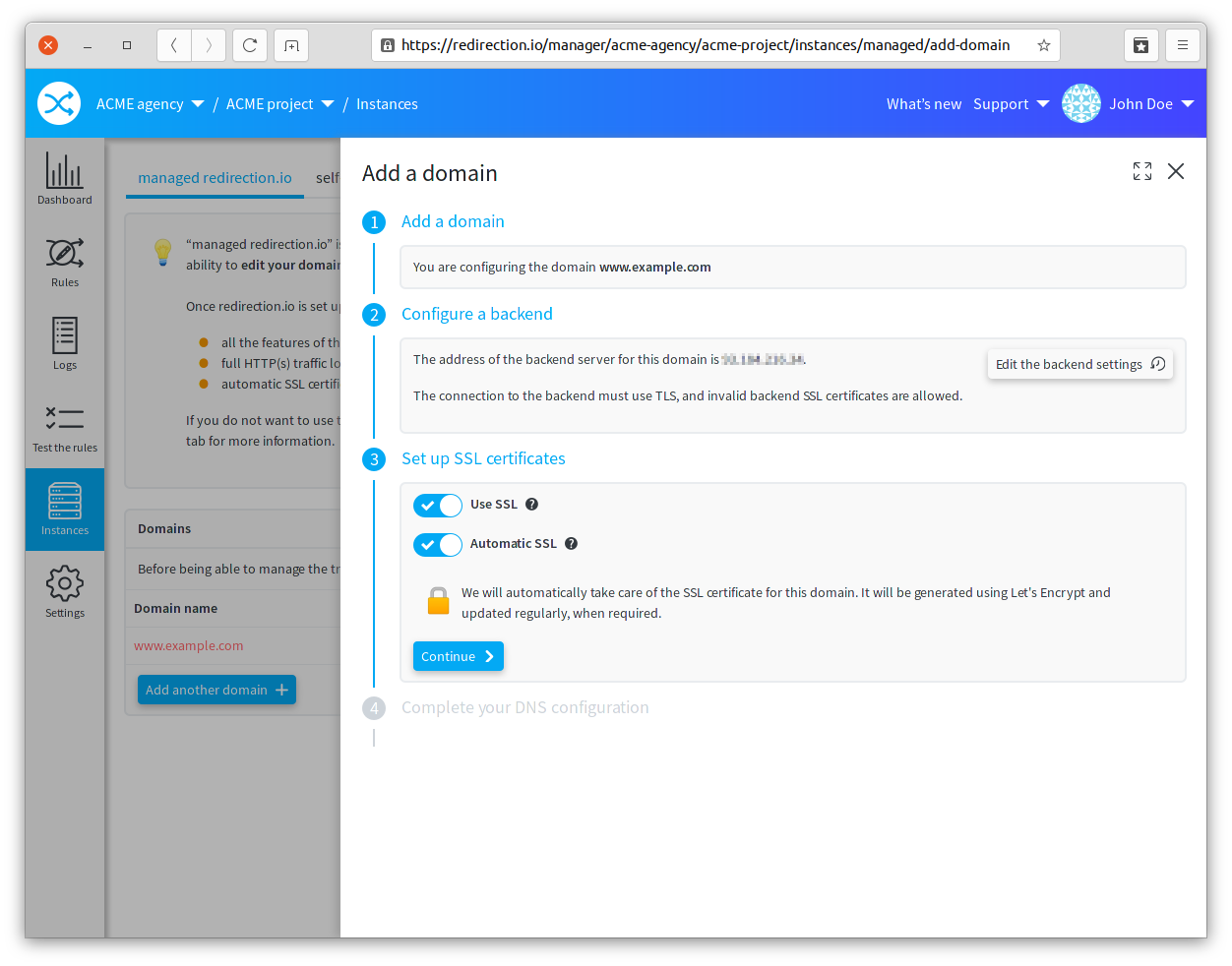 Ready to simplify your redirection.io experience? Reach out to us, and we'll enable Managed Instances for your project. You can also read more about managed instances in our documentation.
Join the growing community of users who have already embraced this convenient and efficient way to manage the traffic of their website. We're excited to have you on board!