As of today, it is possible to temporarily disable a rule using a new "Enable the rule" switch in the rule edition form. All the pre-existing rules have been let enabled by default, and all future traffic management rules will be enabled by default. Just hit the switch to have the rule be disabled.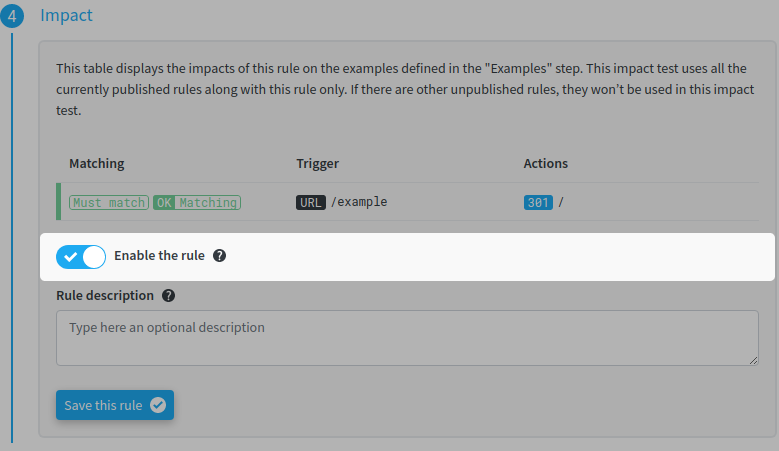 👉 Please note that, after you have enabled or disabled a rule, you still have to publish this change (as any other change you would make in your ruleset) for it to be applied on your production website.
One could wonder why such a feature was not available in the past 🤔 In fact, it has always been possible to remove a rule and re-enable it later on, by using the rules history mechanism, which allows to restore a past ruleset. This new feature just makes it a lot easier and straightforward to temporarily shutdown one or more rules and still keep them on hand, so it can be re-enabled in a quick way when needed.
On the other side, it may sound weird to want to temporarily disable one or more redirects on your website. This feature has been requested by several customers and can be used in several use cases:
to prepare a set of new rules that will have to be enabled in a few days only;
to execute a rule only during certain periods, and to be able to deactivate it outside these time slots;
to perform A/B tests on redirection targets.
Prepare a set of new redirect rules upfront¶
Imagine that a new country section is being launched on your website in a few days. The rollout of these country pages will come with a set of new redirects, that you will want to enable only when the new section goes live. Using the "enable / disable" feature, you can now prepare the new rules, and enable these rules when the backend website is ready.
Execute a rule only during certain periods¶
Imagine that a section of your online store is only opened during event sales, which take place on the first Wednesday of the month. The rest of the time, you prefer a redirect to a specific landing page of your website. Disabling this redirect rule to open the event sales shopping page(s) is a quick way to "open the doors" 🔓🚪
Run A/B redirect tests¶
You could also want to test a set of redirects over a certain period of time, measure their effectiveness on your business / revenue, and eventually re-enable those rules if necessary.
📖 Read the full documentation about enabling or disabling redirection.io rules